Creating the right solution to increase sales and promote product awareness is both an art and a science. As a result, our expertise spans a wide spectrum of manufacturing techniques and materials, providing imaginative solutions to fullfil the needs of the rapidly changing markets.
pop/pos manufacturing services
Please click on a link below or to the right for more information on the manufacturing services we can offer for your Point of Purchase materials and displays. To download our full plant list, click here.
quality system
GID is fully ISO 9001:2015 accredited for all of its operations.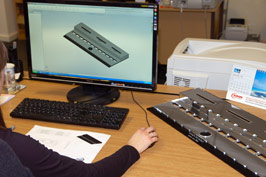 design software
From basic sketch drawings or design visuals, we work up in CAD to form the final design solution. This allows us to assess the true dimensions of the unit and any problems that may arise and also gives our clients the chance to sign off the drawings and be happy in the knowledge they are getting exactly what they want.
Our design software includes Solid Works, Adobe Illustrator and Corel Draw.